VISITING SERIGNAN AND LEISURE ACTIVITIES NEARBY
We are able to recommend several outings and outdoor activities, in close proximity to the Beauséjour campsite in Sérignan-Plage.
Sérignan tourist office: www.ville-serignan.fr
¤ REGIONAL MUSEUM OF CONTEMPORARY ART OF LANGUEDOC ROUSSILLON IN SERIGNAN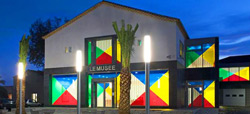 This was the first museum of contemporary art in Languedoc Roussillon. The works in this place are expressed in various ways, each displayed in turn in the graphic arts exhibition room, video room, experimental display, library room or quite simply in the gallery. It houses a plethora of graphic art displays in an area of 2,700 m², in which you will find permanent and temporary collections.
The museum is open to the general public and offers guided visits, lectures and workshops for children.
Open between 10 am and 6 pm daily except Mondays and bank holidays. Weekend : open from 1pm to 6 pm
Information : +33 (0)4.67.32.33.05 / museedartcontemporain@cr-languedocroussillon.fr
---
¤ CANOE AND KAYAK


The canoe and kayak club at the Tarassac windmill (50km (30 miles) north of Béziers) offers you the opportunity to explore the Orb valley in an original way. With a choice of several routes, you can opt to be guided along the water by our qualified instructors or instead freely explore the Orb at your own pace by hiring a boat from the club.
>>Website
¤ THE ST JEAN RANCH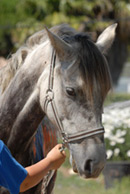 You will not be disappointed with your adventure whilst braving the experience. The St Jean Ranch, our neighbour and partner just next to the campsite, offers a range of equine activities such as excursions, horse-drawn carriage rides, horse rides on the beach or at sunset , and even excursions for experienced riders.

---
¤ MAIDEN FLIGHT IN A MICROLIGHT


Your first flight in the clouds offering magnificent views of the region. At very affordable prices, you can now make your first flight!
---
¤ DEVÈZE CAVE


On exiting the entrails of the earth after your one hour visit, the botanical pathway and the chemin des capitelles (path of dry stone huts) await you to prolong your adventure. An authentic and living French speleology museum, it is often referred to as the glass spinner's palace.
>> Website
---
¤ SIGEAN AFRICAN NATURE RESERVE


Languedoc-Roussillon offers you the opportunity to observe animals just a stone's throw away from your holiday accommodation. Safari lovers no longer need to travel to the other side of the world. Unique in Europe, this park is home to almost 4,000 animals which roam free all year round.
>> Website
---
¤ BEZIERS TOURIST TRAIN


Visit Béziers on board its tourist train and you will discover the Canal du Midi, the 9 locks, the Plateau des Poètes or the Madeleine Church and the St Nazaire Cathedral. The guided tour is delivered in several languages.

---
¤ SERIGNAN VINEYARDS


Established in 1935, this cooperative winery offers you the opportunity to sample its wines in the company of professionals and to discover the art of the region's quality wines. The Sérignan vineyards invite you to join a refreshing tour that will revitalise your taste buds.

---
¤ BOAT EXCURSION


You will appreciate sea fishing and the magnificent coastal scenery. At Grau d'Agde on board the Millésime, we can offer you guided excursions between the Canal du Midi, Thau lagoon and the Hérault river.

---
¤ MARE NOSTRUM AQUARIUM


It will certainly not fail to amaze both the old and the young. Visit the aquarium in Montpellier where, in a one and a half hour visit through a 1,500 m² trail, you can see over 300 species housed in this underground world.
>> Website
---
¤ BEZIERS ADVENTURE PARK


In this adventure park in the forest, you will find yourself in the open countryside and surrounded by the sensations of the Bourbaki forest in Béziers. There are 10 courses of varying levels, an extreme course and two unique and special zip-wire courses . An adventure for everyone!