CAMPING BY THE MEDITERRANEAN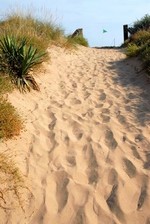 Direct access to the beach of "La Séoune" from Camping Beauséjour
Between the tip of Valras and Portiragnes extends a 3,2 km (2 miles) stretch of dunes encompassing lagoons and salt flats. Along this sandy stretch, the largest on the Languedoc coast, is a remarkable ecosystem which is home to 5 protected animal species. Around the site of Orpellières, covering an area of 220 Ha (545 acres), the coastal conservation area guarantees the protection of this extraordinary natural heritage. The view of this large dune from the campsite is intriguing. Upon crossing the dune you will discover a rare and protected landscape on the Mediterranean coast. Here you'll find miles of endless white sand stretching out before you.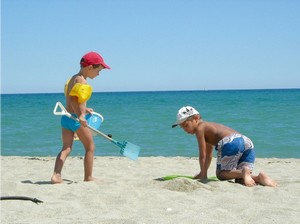 Throughout the summer (July and August) we organise beach activities in these magnificent surroundings. Our activity leaders can offer you beach volleyball, beach football or beach rugby tournaments.
In the warmth of the sun, you can build sandcastles, swim, sunbath, have a picnic and play games, whilst a little further away in the shade, those who prefer a siesta are tempted to a well-deserved rest.
A wonderful choice of activities are just a few metres away from your camping pitch? bracing, iodised fresh air, healthy, clean seawater, a beach of fine sand …
Welcome to the beachfront campsite at the Domaine de Beauséjour!