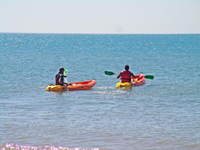 Both young and old will certainly enjoy our activities and facilities. At the Beauséjour campsite, in addition to the beach, sun and swimming pool, there are plenty of opportunities to unwind... not to mention the leisure activities!

---
ENTERTAINMENT FOR CHILDREN

In the campground, children will discover a superb playground where they can act out fantastic imaginary adventures that only they know how to make. During the holidays, your little ones need to enjoy themselves and run around.
Whether captains of a boat, hut dwellers or tamers of leaping dolphins, your children will play completely safe in a playground specially for kids, located only a few meters from the beach at the foot of the giant, white, sandy dune.
---

There is nothing quite like the Mini Club to help your children make friends on holidays, and leave mum and dad alone to spend some romantic moments together. Here, children can take part in recreational activities, watch shows or dabble in handicrafts. Your children will never be bored.
And to top all this, the children's club is open everyday from 9:30 am to 12:30 pm and from 6:00 pm to 8:00 pm.
---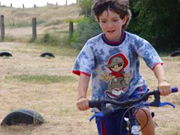 Only at the Beauséjour campground, children can enjoy a magical place : the children's BMX track in the dunes. The icing on the cake for the little ones !
---
SPORTS ACTIVITIES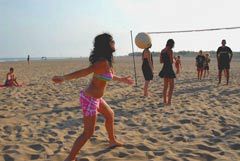 There is nothing more invigorating than to exercise whilst listening to the sound of cicadas. Why not make the most of your stay by getting an athletic shape and looking after your body ? After your stay at Sérignan-Plage, you will almost certainly go home with a golden glow. Within the campsite you will find a fitness room as well as an outdoor aerobics area. If you still have some energy left or if you prefer to work out whilst taking a dip, we can also offer aquaerobics sessions in our pool area.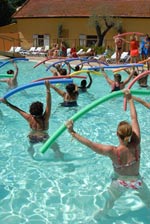 Right by the water's edge, our sports playgrounds are at your disposal for fun matches of boules, football, basketball or volleyball. On the patio, just a few steps from the pool, the ping-pong table is all set for thrilling matches with friends.
Entertainment team invites you to take part in our beach volleyball, beach football and beach rugby tournaments. Feet in sand and smiles on faces, a great atmosphere is guaranteed.
EVENING ENTERTAINMENT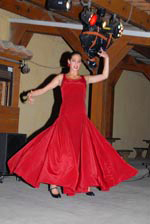 You can gather on the patio for some friendly entertainment after a day lounging around or following a fun-packed afternoon. The entertainments programme is designed for all the family. The evening shows with entertainers such as magicians will make you dream, the dance evenings will make you move to energetic rhythms and you will most certainly hum along to our musical tunes during our musical entertainment evenings.
And all within a pleasant and exotic backdrop, almost secluded from the rest of the world.
---