OUR FACILITIES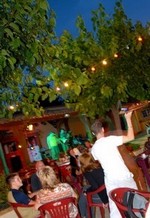 A complete holiday-village with facilities and services
Your holidays should be a real moment of relaxation and pleasure. This is why we have anticipated your wishes with a wide range of facilities within the campsite. Whether for practical reasons or for leisure, our facilities will ensure you won't be inconvenienced or troubled, with the sole aim of ensuring you enjoy your holidays in perfect serenity. At the heart of the campground, close to the aquatic park, the Patio is located. This is a friendly area in peaceful and exotic surroundings. During summer evenings, activities take place here to entertain all the family, illuminated by paper lanterns and fairy lights decorating the area.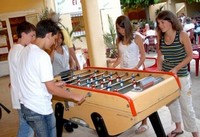 Night shows and restaurant
Why not sample delicious regional dishes cooked here by the chef at the 'Le Chupito' Restaurant? The patio is a lively place where people gather to have a drink on the bar terrace, dance, sing and have a good time. Here you can also order a scrumptious pizza, takeaway meals, or even be served and eated by the swimming-pool, which is beautifully lighted at night.
For those who enjoy to play good games, thegame's area and the billiards area will guarantee you lots of fun.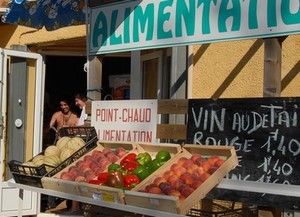 Shops and practical living
Each morning, at the campsite's grocery, you will find fresh bread and Viennese pastries as well as all vital commodities, enabling you to have breakfast in bed or in the open air of the terrace.
For practical purposes, the camping has a launderette as well as necessary ironing equipment. You will be able to receive phone calls or collect your post directly from reception.
Furthermore, if you wish to keep your valuable possessions safe during your holidays, there are several safety deposit boxes available, ensuring that your holidays are unburdened and trouble-free.
Finally, we like to facilitate access for people with mobility difficulties, so the campsite is therefore equipped with disabled access.
With security in mind, our campground also has a first-aid post.